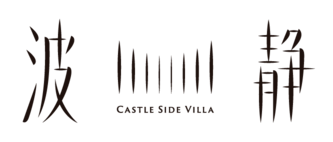 Bask in breathtaking views
A pure indulgence with the infinity peaceful sea
Telling you how far you are from the ordinary hustle and bustle.
It's like a huge picture.
You are here for these breathtaking views.
Sit back and have a relaxing moment.
Let the views relieve the weariness of your body, be embraced by them.
Just glittering stars and tranquil waves.
Just relax here and create some memorable experiences.
Put off your watch, and your shoes.
Everything in peace…and yes, have emotional leeway in your life.
Stay
Right in front of you is the Nishinhama Beach. In the east, you see the Karatsu Castle up above a hill. Welcome to this castle city with incredible ocean views.
With huge windows and your own private balcony,
Wine and dine with the glittering views laid out at your feet.
Luxuriate in your lovely moments at this airy heaven.
We reveal hidden extraordinary luxury like no one else.
Layout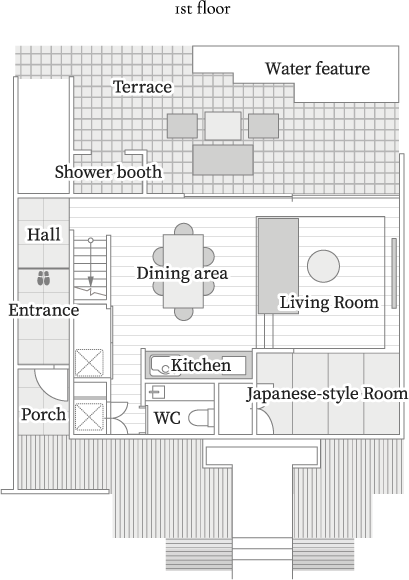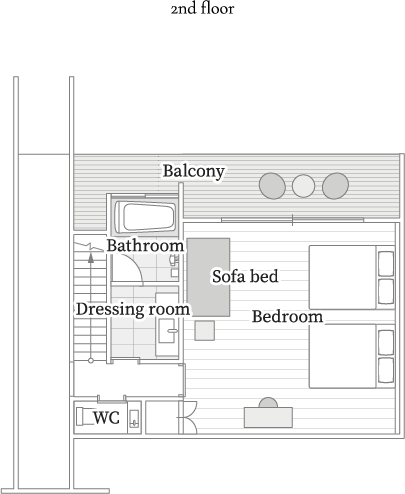 Spec
| | |
| --- | --- |
| Resort size | 189.54m2 |
| Site area | 54.03m2 |
| Site area on the 2st storey | 43.46㎡ |
1st floor
[ Living room and dining area on the 1st storey ]
* Entrance
* Japanese-style Room
* Dining area
| | |
| --- | --- |
| Dining table | W1.83m×D1.00m |
* Living Room
| | |
| --- | --- |
| Sofa | W2.38m×D1.01m |
| Coffee table | diameter- 0.80m |
* WC
[ Terrace on the 1st storey ]
* Water feature
* Terrace
| | |
| --- | --- |
| Sofa | W1.50m×D0.75m |
| Side chair | W0.60m×D0.75m |
| Table | W0.90m×D0.70m |
* Shower
2nd floor
[ Bedroom and Bathroom on the 2st storey ]
* Bedroom
| | |
| --- | --- |
| Bed | |
| Table | W1.20m×D0.50m |
| Sofa bed | W1.95m×D1.07m |
| Table | W0.48m×D0.48m |
* WC
* Bathroom
[ Balcony on the 2nd storey ]
| | |
| --- | --- |
| * Side table | diameter- 0.56m |
| * Circle chair | W0.685m×D0.61m |
Amenity
Bath towel/ Face towel / shampoo/ conditioner/ body soap/ hands soap/ toothbrush/ body towel/ hairbrush/ comb/ razor/ q-tips set/ shower cap/ skin care set / Nightwear
1st floor
Living and dining
Live like royalty in your palatial villa
Your lavishly furnished living room with floor-to-ceiling windows is perfect for lounging
Be seated by the window,
enjoy a bird's eye view of the wave, the wind, the light, and the water.
Everything is exclusive for you.
Savour spectacular views over our careful interior designs
while natural effects can never be designed.
Tableware
Champagne glass and wine glass

Cups, Mugs, plates and cutleries

Cocking utensil
Kitchenware
IH cooking heater

Microwave & oven (Balmuda)

Kettle (Balmuda)

Water purifier, etc.
Others
Our original drip coffee, tea

Sink

Refrigerator

Washing machine
About Meal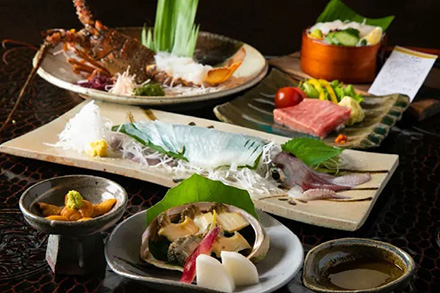 Your experience includes a complimentary dinner at Mizuno Ryokan.
We are pleased to assist with customized dining upon requests.
Or, alternatively, you can choose to dine out at some nearby restaurants, grasp some food and eat in at the villa, or prepare your own meals at the kitchen, all for your unique in-suite events.
Begin your day with our light breakfast (bread and yogurt) served to your villa.
Or change to a sumptuous Japanese breakfast at Mizuno Ryokan- do not hesitate to contact us to perfect your stay.
1st floor
Terrace
After soaking in the Nishinohama Beach, dust off at the shower booth set in the terrace on the 1st storey, then sit back at the sofa. Let the breeze soothe your tired body. Take in the heart-calming ocean views at the glorious light-up water feature in the evening and listen to the wave. Here, everything's ticking along peacefully.
2nd floor
Bedroom and Bathroom
It's the showtime for the spectacular moon and stars at dush when the day's gone.
A bathroom with incredible ocean views to relieve your weariness.
Wash away all your daily frustration here.
And, the spacious bedroom is at where you create the discernible time bridging up two days.
It's like a dreamland for you.
Bedroom
The bedroom is on the 2nd storey- with two Simmons double beds and one Tempur sofa bed for you to kick back in quality comfy.
Bed side desk

Sofa bed

Bluetooth speaker
(BALMUDA)

Extension phone
Bathroom
An open layout with airy glass doors extending from the dressing room to the bathroom.
Bathroom

View from the bathroom

Dressing room
Others
Amenities

Shampoo/ conditioner/ body shampoo

A bathtub with shoulder spa
2nd floor
Balcony
Take in a different view of the Nishinohama Beach at your private balcony on the 2nd storey. With the heavenly nature at your feet, everything looks tremendously different. Under the starry sky, you can spend all night there. Be embraced by the breeze and let it soothe your body, spirit, and soul.